2016 New England collegiate wrestling, week 15

Connecticut Wrestling Online

Since 2001, your source for high school wrestling news and scores

This page was last updated on: March 15, 2016
Copyright 2016, Collinsville Publishing Company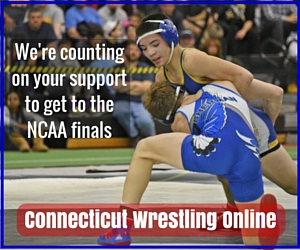 Wrestling begins Thursday in New York for D1 nationals

NEW YORK, March 15 – Wrestling begins Thursday in New York at Madison Square Garden for the NCAA Division I wrestling championships and four Connecticut natives are set to compete for their respective university squads.

North Carolina State's Kevin Jack, a sophomore from Danbury, is ranked No. 3 in the country at 141 pounds and is a contender to win a national championship. The only other Connecticut wrestler to do that was Stamford's John Engel, who won at 118 pounds for Lehigh in 1931.

Northwestern's Dominick Malone (133), a senior who grew up in Granby, is making his third NCAA Tournament appearance while Binghamton's Jack McKeever (174), a senior from Brookfield, is wrestling in the tournament for the second consecutive year. Virginia's Patrick Gillen (285), a senior from Shelton, will be wrestling at the national for the first time.

Jack (23-3) is a key member of the Wolfpack team that hopes to contend for a national championship and has six seeded wrestlers in the tournament. Last year, Jack went from unseeded to All-American with his fifth place finish last year as a true freshman, and this season he was won 17 straight entering the NCAAs.

Jack became the first Connecticut wrestler to earn All-American honors at the NCAA Division I national championship tournament since Oklahoma's Orville Palmer (Middletown) in 2000.

Malone (22-10) went 1-2 in the tournament a year ago and hopes to do better this year. He finished ninth in the Big 10 tournament and finished the regular season ranked No. 19 in the country. He was ranked in the top 20 in early February and has eight pins this season.

McKeever is 23-8 and has been nationally-ranked for much of the season. He is 2-4 against fellow NCAA qualifiers, including a win over Jonathan Schleifer of Princeton at EIWAs March 5. The 174-pound and 184-pound divisions have been among the most competitive in the NCAA and EIWA this season.

The EIWA advanced nine competitors to NCAAs in the 174-pound class, while seven 184-pounders have moved on to nationals.

Gillen (17-13) has finished fourth in the ACC for the past two seasons. He received a wild card to participate in the tournament last week.

2016 NCAA Division I

national championships

At New York

NCAA Division I

Connecticut All-Americans

Kevin Jack (Danbury),

North Carolina State, 141, 5th, 2015

Orville Palmer (Middletown), Oklahoma, 197, 7th, 2000

Jim Guzzio (Madison)

Maryland, 134, 5th, 1997

John Engel (Stamford)

Lehigh, 118, 1st, 1931

Four wrestlers compete at

Div. 3 nationals

CEDAR RAPIDS, Iowa, March 5 – Four Connecticut wrestlers competed at the NCAA Division III national championships in Cedar Rapids on Friday.

Williams' Chris Chorzepa (Newington, 184), Wesleyan's Devon Carrillo (Middletown, 197), Springfield's Tyler Keane (Glastonbury, 133) and Roger Williams' Kyle Foster (Somers, 285) all competed. Chorzepa, Keane and Foster each went 1-2 in the tournament while Carrillo was 0-2.

Chorzepa (39-2) won his first match of the tournament with a A.J. McBroom of Central Iowa, 7-4 but dropped Grant Wedepohl of Wisconsin-Platteville, 8-5 for his first loss of the year. Chorzepa, ranked No. 2 in the country, was eliminated with a 12-10 loss to William Gockel-Frigge of New York University.

Keane won his first match with a 7-6 OT win over Sam Bennyhoff of Augsburg on a stalling call. He lost in the quarterfinals to Jesse Gunter of Baldwin Wallace, 3-2 in the quarterfinals and was eliminated with a 12-2 loss to Phillip Opelf of Cornell College.

Foster captured his first match with a 5-3 win over Mike Spencer of York, Pa., thanks to two escapes and a point for riding time. In the quarterfinals, Foster lost to No. 4 seed Trevor Maresh of Alma College, 3-2, giving up a takedown with 1:36 left in the third period.

Carrillo (15-4) lost to No. 8 seed Dennis Melendez of Hunter, 9-7 on a takedown with 7 seconds left in the third period. He lost his second match to Mason Baumgartner of Concordia, 10-8, giving up a two-point near fall with 43 seconds left and a point for riding time.